A white bar 'to decriminalize Mnyele.' Eleven dark spots as a tribute to the other people killed in the raid by Apartheid deadsquads. A torch that depicts the ongoing flames of resistance. 
On Friday 13 March, a few days before far-reaching restrictions on freedom of movement were also announced in the Netherlands, a small group gathered in the studio of the 30-year-old Thami Mnyele Foundation in Amsterdam. To celebrate a new work by guest artist Adam Belarouchia. We were together, but already at an appropriate distance from each other.
 Belarouchia has permeated the story of Thami Mnyele in recent months. A few days after his arrival in the Netherlands, at a Studio ZAM event nearly 50 people shared memories about the artist who was murdered together with eleven compatriots by South African death squads in 1985. Memories of renowned visual artist Gavin Jantjes, whom Thami Mnyele met in Gaborone not long before he was killed. Memories of Conny Braam who attended the Arts & Resistance conference in that same city in Botswana in 1982 and and who was intensely impressed by Mnyele. By Bert Holvast and Moira Whyte, who founded the Amsterdam Thami Mnyele artist residence in 1990, which was founded. From Pauline Burmann, the current chairman of the foundation that manages the studio. With the attendees, Belarouchia watched unique video footage of Mnyele, in conversation at the 1982 conference. And he studied Art and Revolution, the catalogue Diana Wylie compiled to accompany the major retrospective of Mnyele's work at the Johannesburg Art Gallery, in 2008.
For example, Belarouchia heard a story related to a long history of oppression and opposition to it at the southernmost tip of the continent. Even from one of the northernmost countries of the continent, Morocco, this story resonated about artists who, under the most difficult circumstances, find artistic language and signs that depict evil and give courage to those who rebel against it.
Belarouchia is a multidisciplanary artist. He is a cartoonist and street artist, but also a gifted painter. He used the latter technique for the portrait of Thami Mnyele. An image full of symbolism: a white bar over his eyes 'to decriminalize Thami Mnyele'; eleven black spots that do justice to the eleven fellow fighters who lost their lives. In addition: a torch, inspired by a work by Mnyele himself, the poster used for the Arts & Resistance Conference in 1982.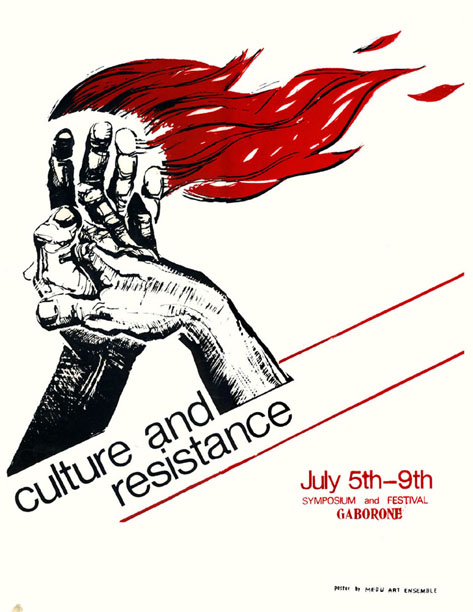 ZAM's report of the Studio ZAM event: Thami Mnyele. Artists in Resistance.
Evelyn Groenink's story about Thami Mnyele.
About the Thami Mnyele Foundation.