Exploitation and imagination in the works of this year's principal winner of the Prince Claus Award.
It was at boarding school that Ibrahim Mahama's interest in art was aroused. 'We had a lot of time to draw and the teachers made us curious about art and aesthetics'. But it was his training at the Painting and Sculpture department of the Kwame Nkrumah University for Science and Technology in Ghana that laid the foundation for the artistry that has earned him the prestigious 2020 Prince Claus Award at the age of 33.
Reading in the jury report and articles online, the memory immediately returns. It is November 2015 and I am visiting the Venice Biennale with friends. Jute bags are draped along the immense walls in a narrow street between the main buildings of the exhibition. Due to its colossal size, it makes an overwhelming impression. Stitched together and printed with trade terms, they represent the journey of cocoa across the world, of production lines, from the plantations in West Africa to the processing industry elsewhere in the world. It is a story of capital and labor, of exploitation. The work is entitled Out of Bounds, a signature piece by Ghanaian artist Ibrahim Mahama.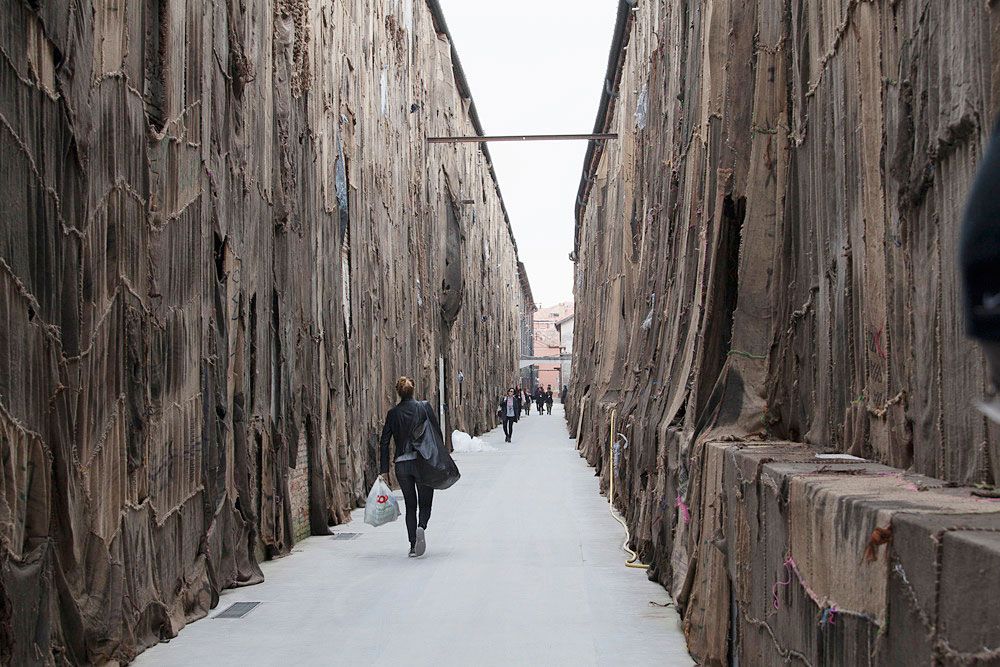 'Okwui Enwezor invited me to submit work for the Biennale', says Mahama in the video call we conducted this week. He speaks with great respect about the Nigerian guest curator of the Biennale in 2015, who passed away last year, too young. 'I was completely overwhelmed by his invitation. Me? African artists were excluded from international events for so long'. Enwezor's eye for exceptional talent parachuted the young Ghanaian into the international art arena. Kassel followed, then New York, Cape Town, Rome, Dublin, Michigan and, of course, Komasi, Accra. Out of Bounds is a milestone in a study that Mahama started three years ago and is far from being finished.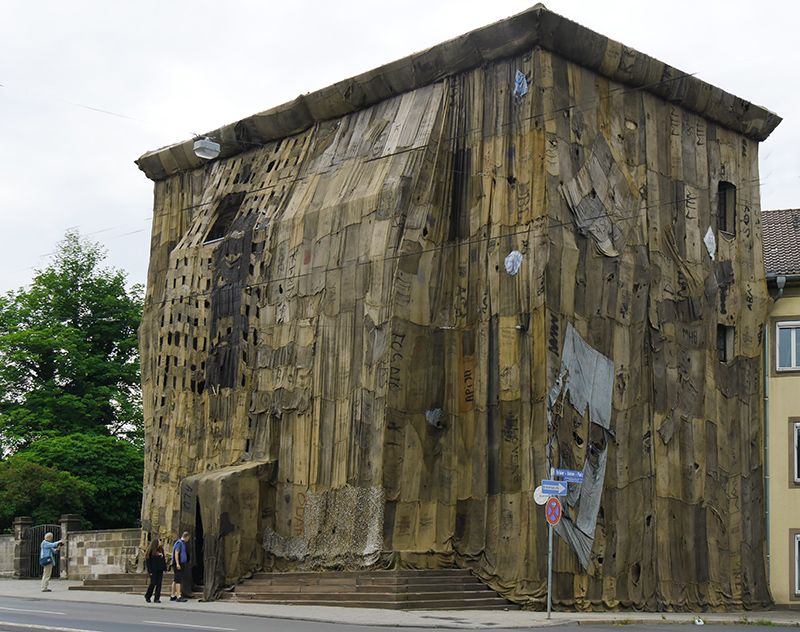 'The meaning of the jute bags, their symbolism, became increasingly clear. It is a political story that also appeals to me because of my upbringing. My parents are Marxists'. This left-wing toolbox still seems to frame Mahama's understanding of the world. Unlike many colleagues in the West, Mahama is outspoken about the political undertones in his work. 'The artist', he says, 'has a social responsibility. He can be a force to bring about change'.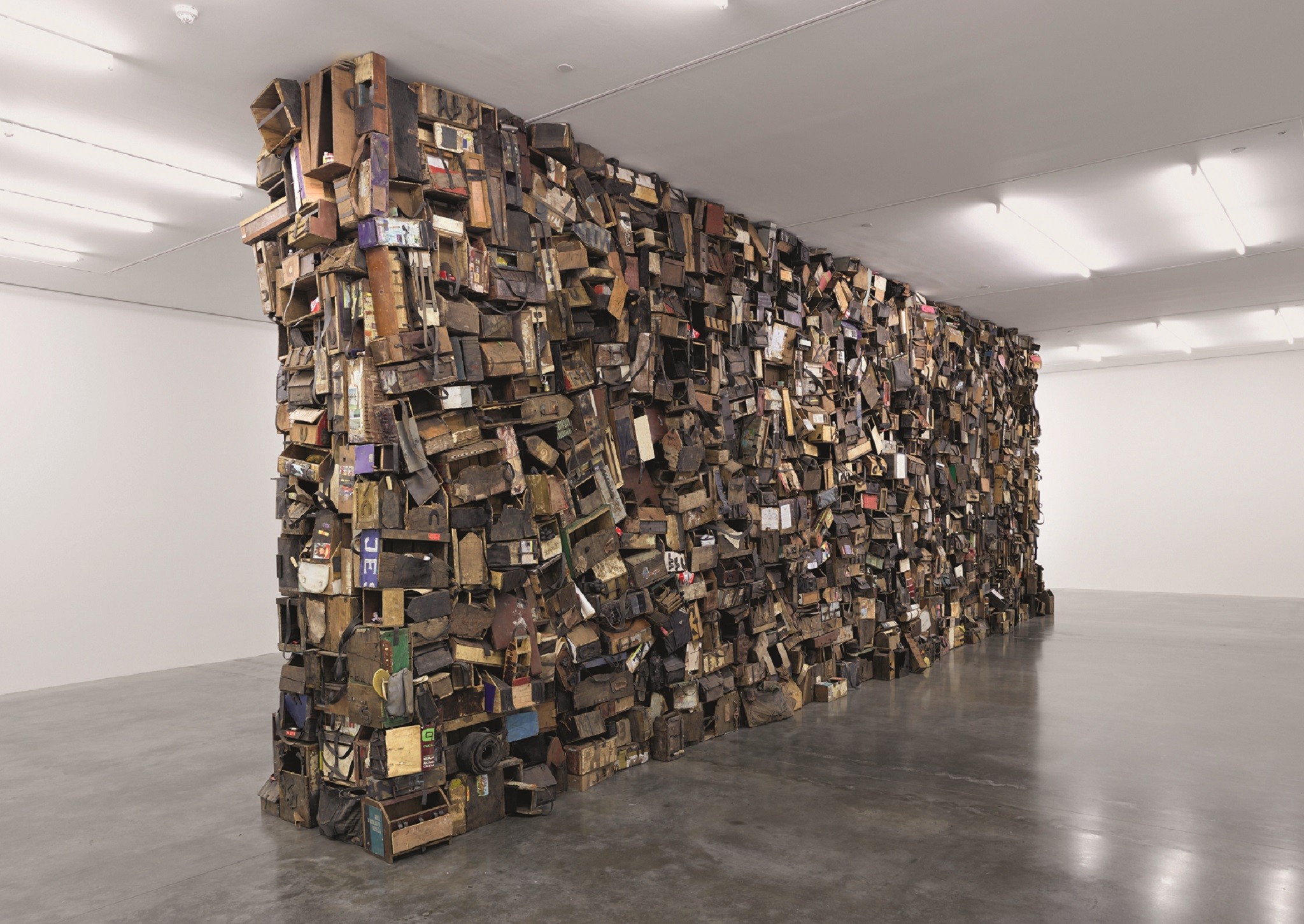 'The British colonial curriculum leaves no room for imagination'.
But never fall in line. Mahama's passion is built on an authentic conviction that does not prescribe politcal engagement but calls for it. This attitude was fueled by his experience at university in Ghana. Mahama: 'The curriculum was decidedly British colonial. It prescribes that you draw what you see, it leaves no room for imagination. But the professors encouraged us to ask questions and think out of the box, we were allowed to experiment and they sent us out to small towns, markets and railway stations. You gained insight into architecture, the mutual cohesion in the landscape or the lack of it, but also the policy of labor'.
In 2011, Mahama started his masters. In the same year he traveled to Burkina Faso. It was there that he noticed the jute sacks. 'You saw them everywhere. Once filled with rice and cocoa, coal, beans and coffee, now re-used all over the place'. They contain handprints, the sweat of labour is stuck to them. They represent a journey across the world. But at the same time, this freedom of movement is denied to the workers who bring up the commodities, pack them, load and unload them. Yet these bags refer to a kind of togetherness, a solidarity between working people. Mahama came up with the idea of making the bags the core of his work. 'I let them breathe again'. Or, as curator Bonaventure Soh Bejeng Ndikung writes in a text with Mahama's exhibition during the 14th edition of Dokumenta in Athens: 'The jute bags become skins with the scars of their background'.
From the visit to Burkina Faso, Mahama combines study and artistic practice. In 2013, he gets his master's degree. Two years later he starts his PhD. Meanwhile, his work travels the world. Back home his work gains further attention when he wraps a dilapidated apartment building. Naturally, Christo's art of wrapping and packaging resonates in this, but the use of materials makes this work different. It transcends aesthetics. It puts a finger on an open wound. At the same time, it is breath taking and completely captivates the spectator.
Migrant workers assist Mahama in constructing his immense installations in silos, backyards and vacant stations. He sees them as 'collaborators'. This equality is essential in his approach. Mahama detests the capitalist adage of being special. 'The system singles you out. It will make you feel special. The American Dream. But everyone deserves a good life'.
Recently Mahama established the Savannah Center for Contemporary Art in Tamale, the capital of Ghana's Northern Region. It is a hub for research, exhibitions, conversation, but most importantly, for local engagement. The center hosts artist residencies and retrospectives, such as those by the Ghanaian modernist and 'Afro-journalist' Kofi Dawson and the dramaturge Ageyman Ossei. There are collaborations with the nearby Red Clay Center where Mahama has his studio.
Another dream lies ahead. Mahama wants to use the Claus Fund's Award as seed money for a new art education, accessible and independent. Students will soon be taught to let their imaginations run wild. 'We have to take it into our own hands', says Mahama. 'Our government does not take any responsibility'.
Video | Ibrahim Mahama on making art from the detritus of colonialism