How black bodies move from pain to healing and thrive as centres of joy
The seventh Ake Arts and Book Festival held over four days at the end of October in Lagos, Nigeria, draws hundreds of people to book readings, poetry performances, panel discussions, art exhibitions, films and more. The festival prides itself as the largest in Africa; and for the first time since its inception in 2013, it is funded in the main by an indigenous Nigerian company – a milestone founder Lola Shoneyin is proud of. "This year we have more creatives – writers, filmmakers, poets, thinkers, actors, photographers, dancers and artists – from more African countries than we have ever had before," she said at the opening ceremony. Shoneyin is passionate about creating safe spaces for conversation and creative expression, and this was reflected in the array of participants from Africa and the Diaspora for this year's edition, the theme of which was Black Bodies, Grey Matter.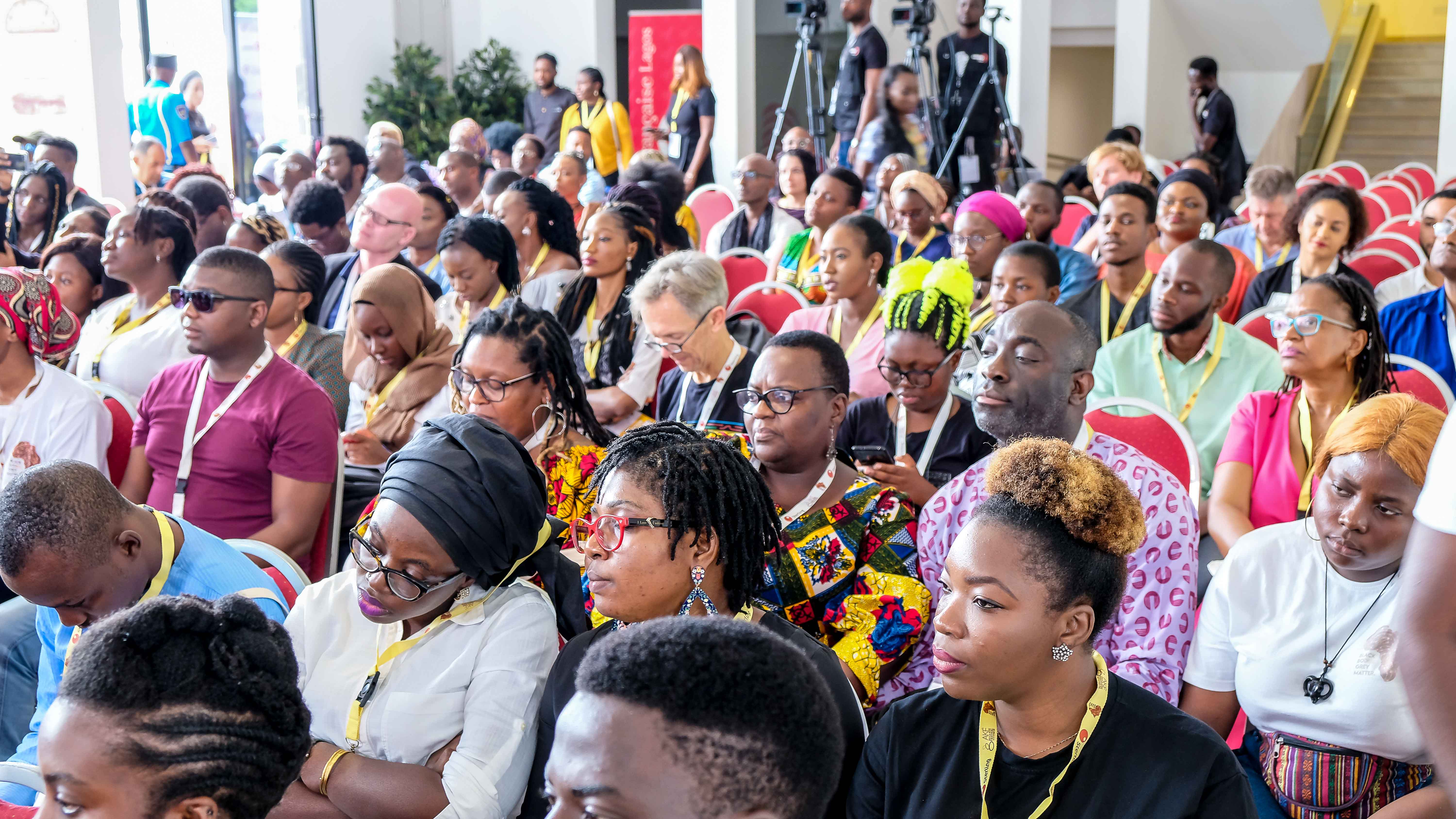 The theme encompassed a wide range of issues affecting black people and their mental health, especially women; and delved into topics including trauma, violence, self-image, Afrophobia, colourism, gender and sexuality, and so on. Headlined by author of 'Nervous Conditions' Tsitsi Dangarembga; with the participation of British writer Bernardine Evaristo who won the Man Booker Prize the week before the festival; and including a special tribute to the late African American Nobel winner Toni Morrison, Ake saw a significant participation of women from around the world.
The focus was very much on how black bodies might move from pain to healing and thrive as centres of joy. Experiences shared included that of Yolande Mukagasana, author and survivor of the Rwandan genocide whose testimony was so intense that the Nigerian professor, Jibrin Ibrahim – whose task it was to translate from French into English – wept uncontrollably on the stage.
Violence often starts in the private space
The 'Eliminating Sexual Violence in Public/Private Spaces' panel had three activists engaging on their fight to keep women safe in society. Zethu Matebeni talked about her organisation, Free Gender, formed in 2007 in response to the murder and rape of black lesbian women in South Africa. "We wanted to push government to take a strong stance against sexual violence," she disclosed. Her queer activism is focused on black communities, because: "It is considered taboo and you're made to feel alien. And so, we're finding ways to engage society to realise that this is part and parcel of the fabric of being African." The goal is to "understand the nature of violence and how violence happens to certain types of bodies." Violence often starts in the private space, she posited. "The family has become a regulatory space. It allows for the continuity of violence from the home – or the private space – to the public." Referencing the South African slogan, 'You strike a woman, you strike a rock', she decried the pressure on women to persevere and endure for the sake of family stability, which in turn translates to the national space.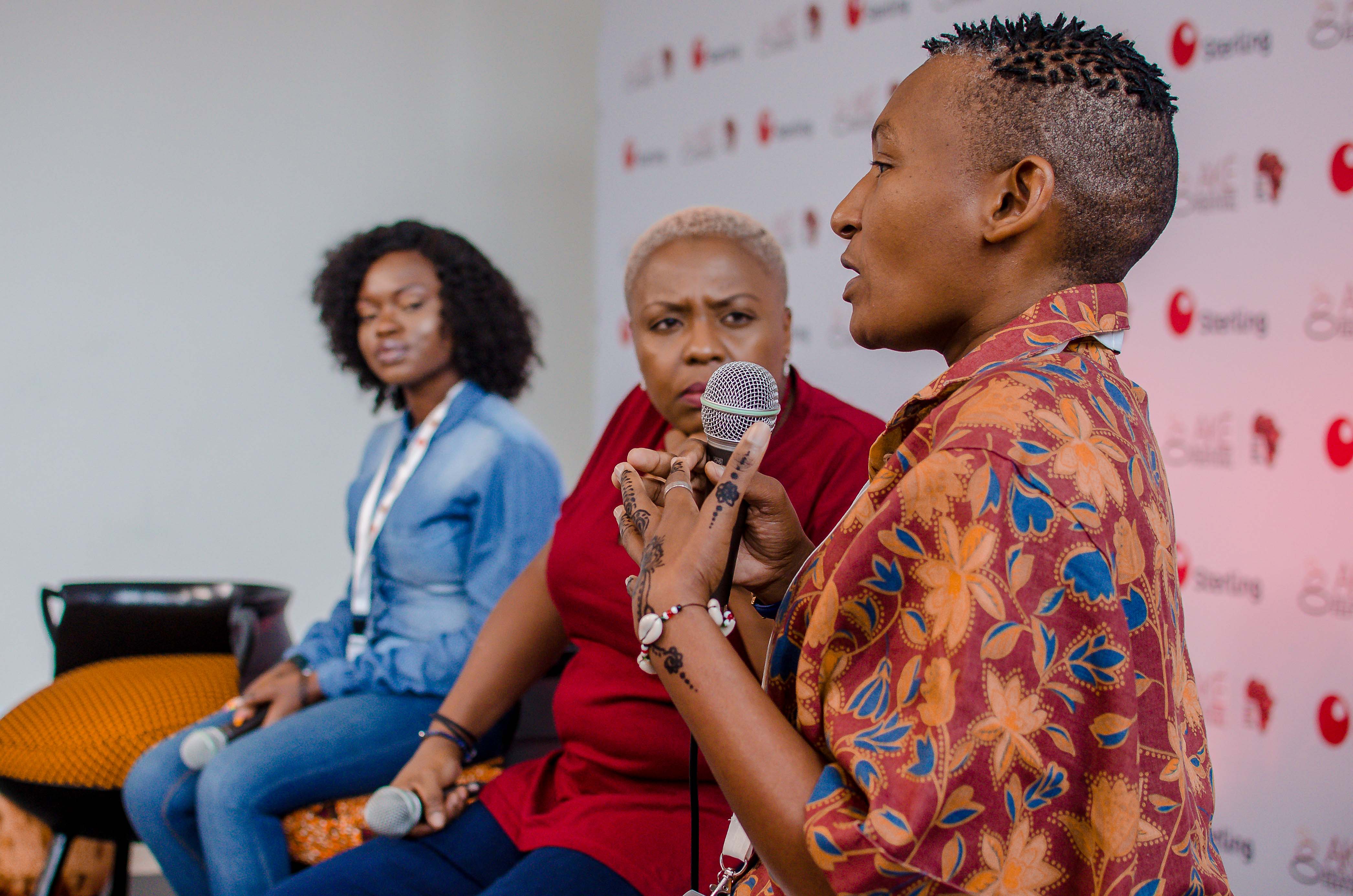 "I think language is a very important thing," Matebeni stated further. "And in South Africa, one of the things that we did as an organisation was to get to a point where we no longer use the term, 'Corrective Rape'." Men's Violence Towards Women is the preferred term. After all, "rape is rape." Free Gender is forging connections between women's movement and organising, in the belief that the violence that affects one woman affects another, irrespective of sexual/gender identity or status. "We are all engaging in trying to eliminate that violence," Matebeni declared.
Also on this panel was Damilola Marcus, organiser of the Market March aimed at ending sexual harassment in the Nigerian marketplace, particularly the famous Yaba Market in Lagos. "If people can come together and raise their voices in solidarity - that can be a solution. So, that's how Market March came to be," she said. An online conversation about the harassment of young women in the market had led to the realisation that older generations of women had similar experiences. She decided to do something about it. "There is a culture for which the manhood within Yaba Market is validated for some groups of men by their actions towards women. Until masculinity stops being dependent on subjugating femininity, we will not be able to remove men from the conversation," Marcus insisted.
The third panelist, Ayodeji Osowobi, is the Executive Director of Stand to End Rape Initiative (STER), an organisation that provides mental, legal and psycho-social support to survivors of sexual and gender based violence. "It is bad enough that someone gets raped, but it's worse that society expects you to keep silent about it and not get help," she observed. STER helped facilitate BBC Africa's #SexForGrades documentary which exposed the sexual harassment of students by lecturers at the University of Lagos. Informing that the documentary has helped trigger a legal reform action, Osowobi called for advocacy – "to take the conversation to communities" – legal reform, and concerted effort to change social norms. She noted that while the Violence Against Persons Prohibition Act has been passed by the Nigerian Senate, it is yet to be adopted by many states of the federation; the Gender Bill has been rejected five times by the National Assembly; while, thanks to the #SexForGrades controversy, the Sexual Harassment Bill is to be revisited.
Another trio of women took the stage for the 'Scars, Body Modification and Self/Social Acceptance' panel moderated by Wana Udobang, a poet and journalist. Chidera Muoka, a multimedia content creator, is credited for the 'I Am Series' celebrating bodies that do not typically fit into society's definition of beauty, including amputees and persons living with albinism. "It's about creating content that people can relate to, and which creates positive impact," she told the audience. Adetutu Alabi - who went viral on being followed on Instagram by singer Rihanna – gave an insight into the difficult road towards owning her self-ascribed label of 'Model With Tribal Marks'.
She no longer sees her own marks as a hindrance.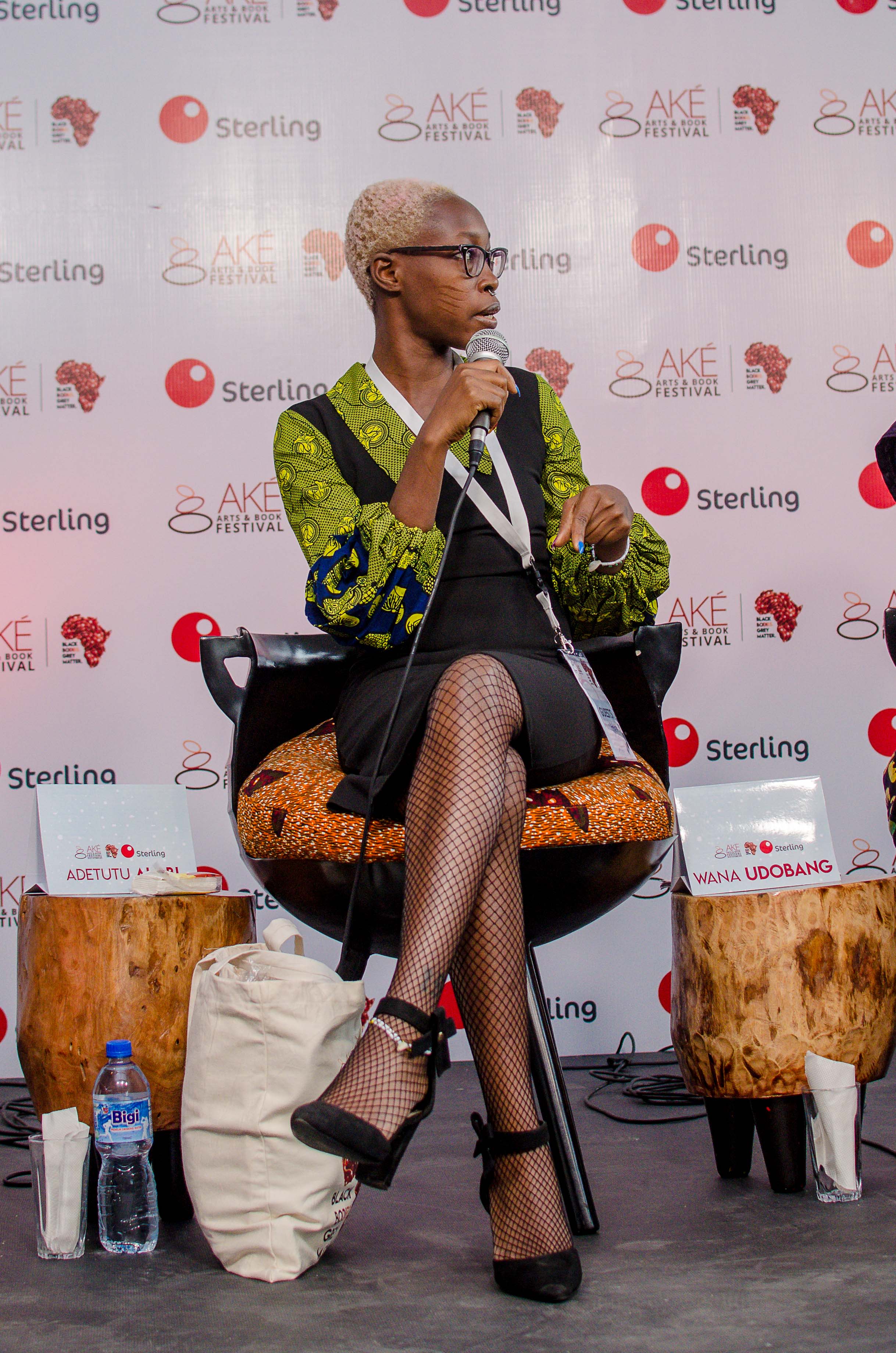 Her facial markings had not always been easy to bear. "Someone [once] told me I am repulsive because of [them]," she revealed. When she first started posting her photos on Facebook she tried to filter out the marks, until friends encouraged her to embrace her peculiarity. Alabi is now a campaigner for bodily autonomy, raising awareness so parents don't put marks on children who may be burdened as a result in future. She no longer sees her own marks as a hindrance. "I am a proud nudist; forget the tribal marks. I can decide to walk naked here. I don't care," she said.
Muoka aligned herself with the need for body modifications to be consented, but maintained that, "We have to define our own standards of beauty based on our culture. I see tribal marks and I think they are beautiful."
Completing the panel was author and advocate for persons with disabilities, Adenike Oyetunde, who spoke movingly about the personal journey that led her to eventually give up her prosthetic limb, opting instead for crutches. "My dissociating myself from my prosthetic limb gave me a newness to who I am, and the wholeness of my body," she explained. Oyetunde once filed a suit against the Lagos State Government over lack of access for persons with disabilities at public buildings and facilities. "Nobody thought about people with special needs. I don't know whether anyone has seen a person in a wheelchair use an ATM in Nigeria. That's because the financial institutions do not think we're worthy enough to have ATMs accessible to us."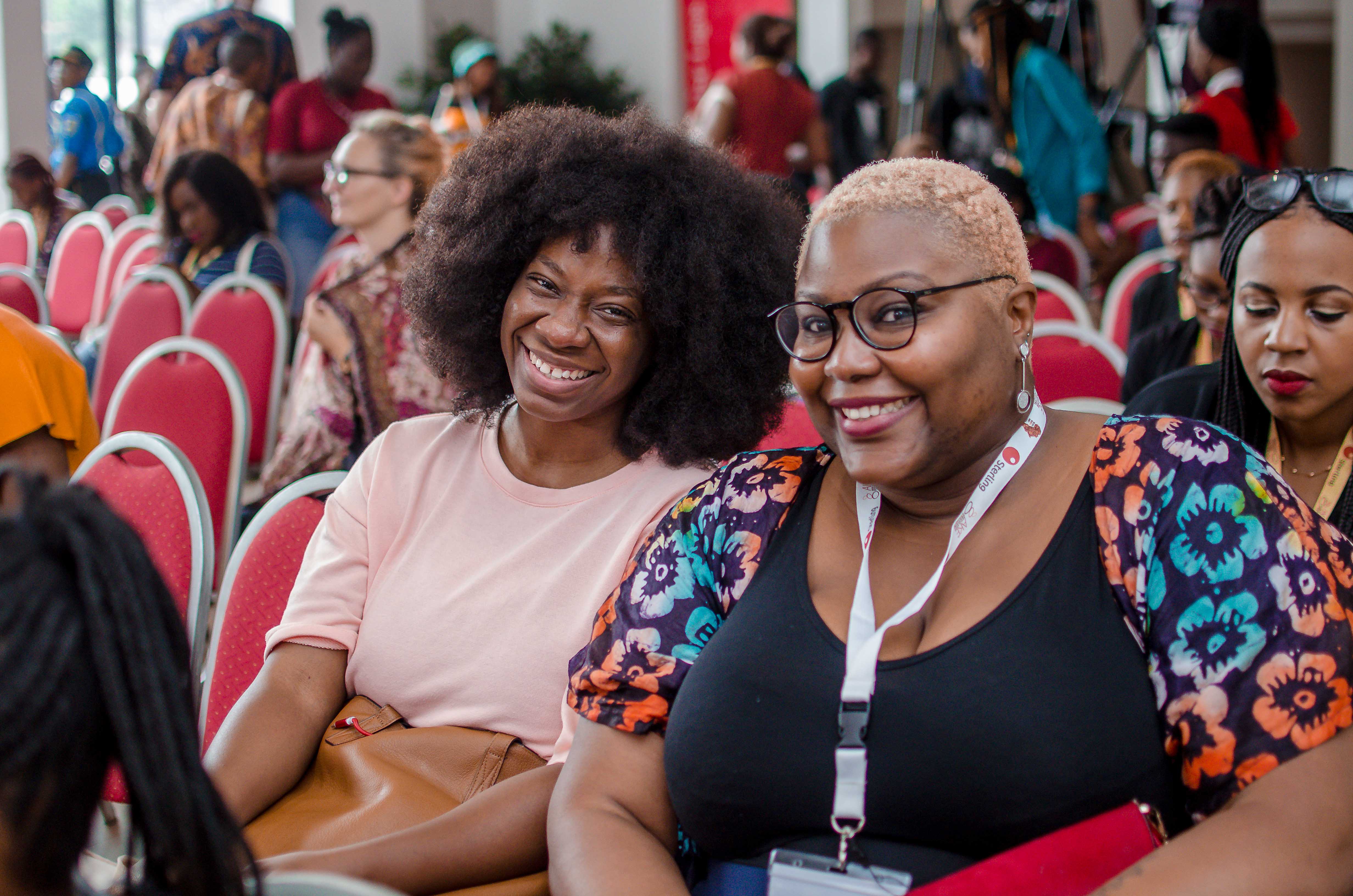 Asked about desirability, she recalled her swimwear shoot in 2016, the photo of which went viral. "That picture will forever remain one of my best decisions ever. It made me realise the power that I still carried in what my body is, amputated. It has made me appreciate what my body can do in this state, now." Like Matebeni in the earlier panel, Oyetunde rejected the myth of women's strength, saying, "I am not your superwoman. Living with disability is hard work, [it] is tough. I am allowed to be vulnerable. I am allowed to cry."
Looking back, she reflected that, "I am just in my little corner doing what I know that is going to liberate me. It has completely taken my advocacy to a different level. I am that one person who is living beyond the impossibilities."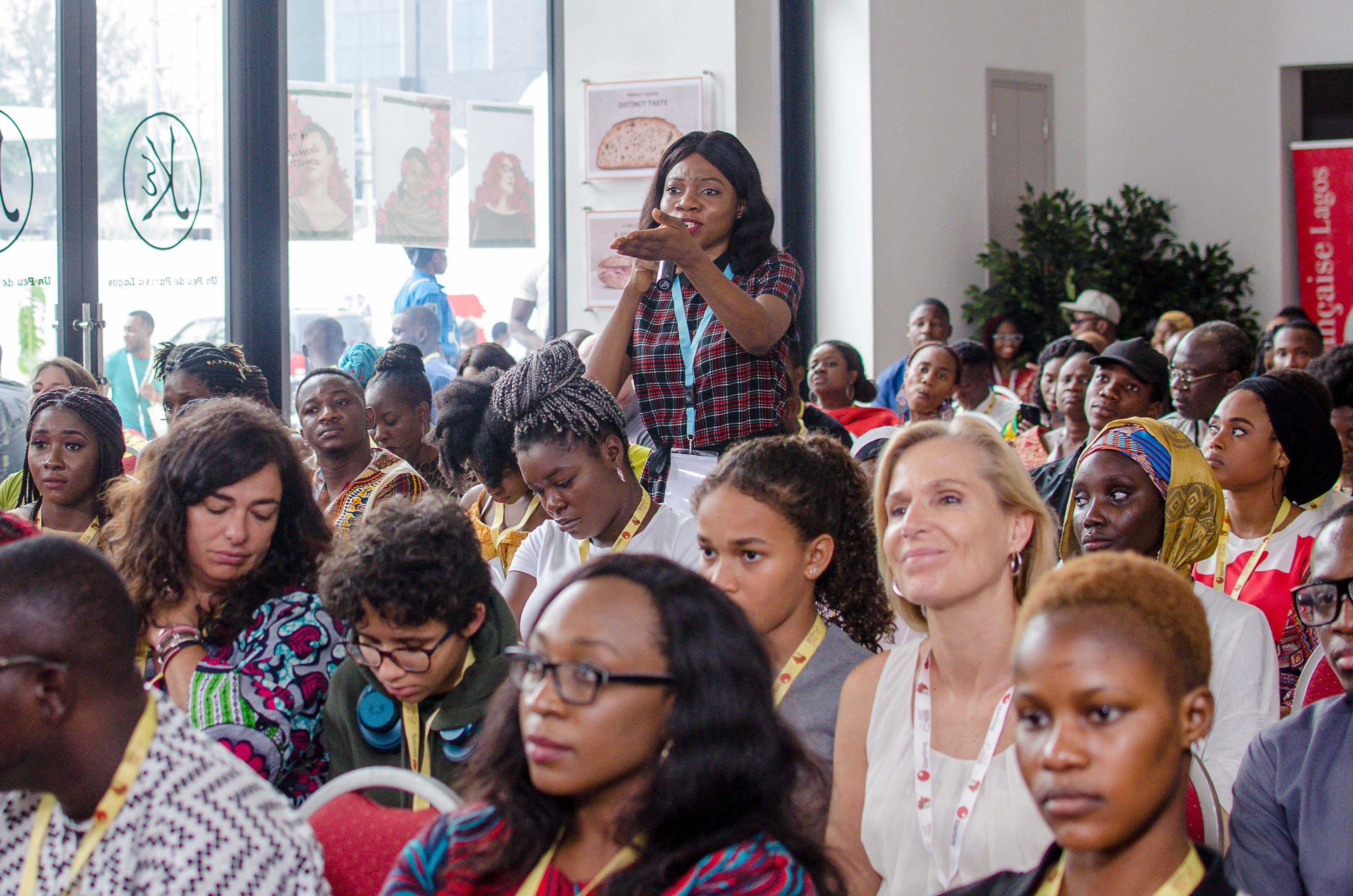 This idea of women living beyond impossibilities was one that resonated through the powerful engagements at Ake Festival 2019, a process that another guest, feminist author Mona Eltahawy, described as an "unchaining". Festival organisers turned dialogue into action by launching a sexual violence handbook, 'We Must Talk About This', 20,000 copies of which were produced with the support of Open Society Initiative for West Africa (OSIWA).
The festival held on October 24 to 27, 2019, and featured a host of women writers including: Nnedi Okorafor, Leila Aboulela, Jennifer Makumbi, Reni Eddo-Lodge, Nicole Dennis-Bern, Chika Unigwe and Zukiswa Wanner.
Molara Wood is a journalist, essayist, editor and critic based in Lagos and Abuja. She is the author of Indigo, a collection of short stories.